What is the GRE and Why Is It Sometimes Required?
The Graduate Record Examination (GRE) is a skills and knowledge test for graduates of undergraduate degree programs. Some colleges require that incoming students complete this assessment prior to being approved into their graduate-level degree programs, making it an additional step on students' educational path.
This exam tests students in areas including Analytical Writing, Quantitative Analysis, and Verbal Skills. After completion of the exam, students are assigned a score based on their accumulative progress in each section.
Different colleges have different expectations for scores required for admissions. Colleges that have a higher admissions rate may utilize these test scores in order to determine which applicants are accepted into their programs.
With this added barrier to entry for some colleges, students may seek out universities that do not require the GRE for admissions. There are multiple schools throughout the U.S. that do not require the GRE for entry, many of which consists of online flexible course options.
Admissions Requirements for No GRE Programs
Some universities can use the GRE as a method for further screening applicants for their programs. In college programs that do not utilize the GRE as a method for enrollment, students may need to provide documentation to support their previous achievements and degree programs up until the point of enrollment.
Typically, universities require that students provide proof of their undergraduate degree program and transcripts at the time of application. Students applying to universities with no GRE requirement may also be required to hold a minimum GPA of 3 or higher depending on the schools they are enrolling in.
Additional requirements may vary depending on the schools you are applying to. In some cases, schools may substitute graduate-level testing requirements with work experience, which can include a 1 or 2 year requirement for admissions.
Each school may have slightly different expectations for learners interested in applying to their programs. You should always review the requirements of each institution prior to submitting your final documentation.
Online CACREP Accredited Master's in Counseling Options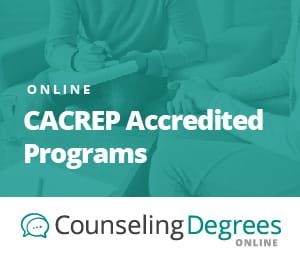 In today's educational setting, students may prefer the benefits of utilizing the internet during their learning experience. Online CACREP accredited Master of Counseling programs with no GRE requirements can provide students with optimum flexibility and convenience from start to finish, which can be vital factors for busy adults with little free time to donate to education.
Northwestern University currently provides a CACREP-accredited online MA in Counseling to students interested in making a difference in the lives of others. This program can take around 2.5 years to complete and seeks to prepare students for successful completion of the National Counselors Examination.
The University of Denver also provides an online Master of Counseling option for students prepared for enrollment. The MA in School Counseling available through this university can help you learn techniques appropriate for use with children needing guidance in school settings.
View counseling programs by state to find programs near you or view the Online MA in Counseling programs.
Counseling Career Options
One of the most exciting factors about Master of Counseling programs with no GRE requirement is that they can lead to the same counseling careers as their GRE-requiring alternatives. The GRE does not designate the type of program you are permitted to participate in, but simply acts as an admissions filter for higher-demand universities.
Obtain Licensure First
Online Master of Counseling programs can prepare you for the completion of the National Counselors Examination, which is a standard precursor for licensure in each state. Once you have graduated from your degree program, you can begin your supervised clinical experience that can last around 2 years for most participants.
Licensed Counselors
Licensed counselors can work for mental health agencies that provide care to a broad range of clients. If you are interested in administering general counseling to the public, you could apply for positions at these mental health offices, hospitals, or even private businesses or partnerships with other counselors.
School Counselors
Specialized career options in counseling can be found in the educational setting - with a large number of degree programs available to prepare learners for careers in school and career counseling. In some areas, child and adolescent counselors can work in the school system as an added resource for support for students.
Military or Non Profit Counseling
Counselors can be great tools for support in a wide variety of setting. As a licensed professional, you can work for organizations that require counselors on staff, the military, and even large organizations like the Red Cross during your career.
List of Programs
AD
Programs Currently Accepting Applicants
Click for admissions information & specific admissions requirements, length of the program, tuition rates, format and learning environment, and any other questions you might have.

Still Looking for a Counseling Degree?
Here are some of the most popular online counseling programs. On each page you will find a detailed writeup of the program, specific courses, and schools that offer that program that are currently accepting applicants.